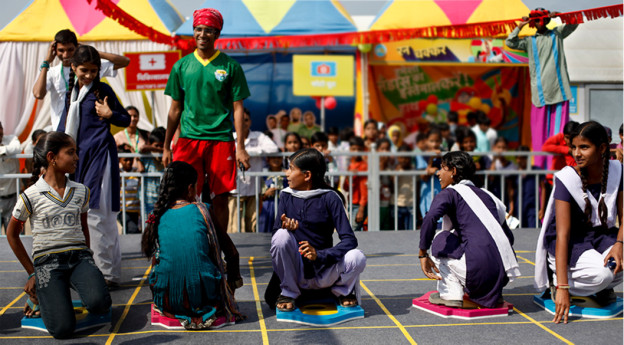 Cleanliness And Sportsmanship: Wash United
It may be It may hard for many Americans to imagine, but the ideas of soap, regular hand-washing, and flushable toilets are not universal. Not all societies can take the benefits of good hygiene for granted. Diarrhea caused by dirty water, poor sanitation, and bad hygiene kills more children worldwide than malaria, measles, and HIV/AIDS combined. Many people around the world are still learning about these simple techniques that help keep us clean and healthy.
Wash United uses sport and games to educate and excite people about proper hygiene. Working throughout Africa and in northern India, Wash United has made hygiene an important talking point in distressed communities. In Uganda, Wash United staged the "World Toilet Cup"—a soccer related game that teaches school children that "The poo belongs in the loo." This and other competitive games help transform hand washing from a chore into a goal. Improved hand washing behavior helps make the children and the society around them healthier.
Recently, Wash United targeted soccer fans at the CECAFA Tusker cup in Uganda. At the end of the first half, volunteers navigated the roaring crowds and handed out brochures featuring Didier Drogba, Africa's biggest soccer star. In the brochure, Drogba stands with a child and says "Play hard, play with passion. It is a matter of honour. So is washing your hands with soap."
Wash United hopes to promote their "3-finger pledge": 1) Always use a toilet when available, 2) Always wash hands with soap before eating and after using the toilet and 3) Get three friends and family members to take the pledge.
Diarrhea is the second largest killer of children under 5 years old. Wash United harnesses the wide appeal of sport to make something as fundamental as hand-washing into a fun and sexy means for real change.
To donate to Wash United click here: http://www.wash-united.org/support
By Mike Weinstein