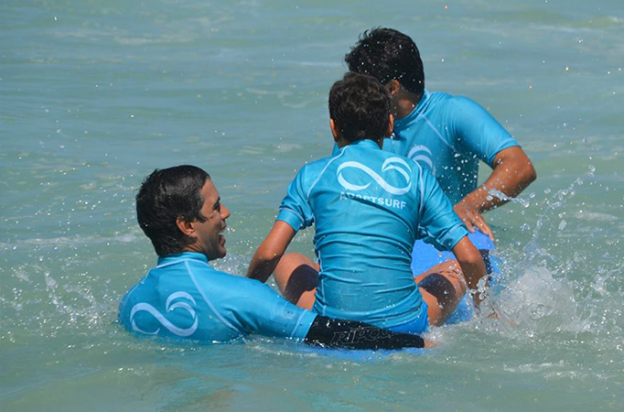 Party mecca. Tropical paradise. Dangerous favelas. Christ the Redeemer. Whatever you think of when you hear about Rio de Janeiro, Brazil it's probably not disability advocacy. But there's a good argument it should be.
In 1997, lifelong surfer Henrique Saraiva was shot in the stomach during a mugging gone wrong in Rio. The bullet lodged in his spinal column, leaving him partially paralyzed. Ten years later, Saraiva and two friends started AdaptSurf. AdaptSurf teaches surfing to the physically, mentally and developmentally disabled citizens of Rio, showing them, and all of Rio that the joys of surfing are not reserved solely for the able-bodied.
AdaptSurf has humble origins—a handful of loyal members with a single surfboard who met on Saturdays and Sundays on Leblon Beach. But in short time, thanks to generous donations the founders were able to buy more surfboards, as well as mats to help people navigate the sand.
Security is key at AdaptSurf. The group meets in front of a lifeguard station. Participants surf one at a time, and always with able-bodied assistance. Their record is impeccable. In eight years of activity, AdaptSurf has not suffered a single surfing accident. Today AdaptSurf offers 1,200 free surf lessons per year. Their programs have expanded to include yoga classes and photo and video instruction.
The group also works towards making beaches more accessible, providing beach specific wheelchairs and helping to build ramps and walkways that make it easier for people with reduced mobility to reach the beach. AdaptSurf is also active in defending Brazil's beach fronts—and has been long before the 2016 Summer Olympics revealed the sub-standard conditions of the water bodies designated to host the Olympic sailing and surfing competitions. Relying on the same network of advocates that promote its disability services, AdaptSurf has organized beach cleanups and launched environmental awareness campaigns.
Along with  the obvious health benefits that surfing and other water sports offer to  people who struggle with mobility and other issues, AdaptSurf gives its participants a sense of belonging to  a larger community they might have felt excluded from.
AdaptSurf has many winning elements. It has Rio's sunny beaches.  It has results. But most of all it has the universal allure of surfing—the effortless motion of the waves and the visceral power of the ocean that call out to all surfers, of all abilities, all over the world.
By Ben Young
For More Information: adaptsurf.org.br