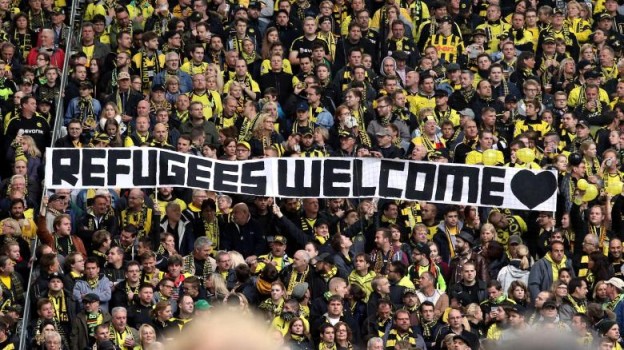 A drowned Syrian toddler washed up on a Turkish beach. Seventy-one migrants suffocated to death in a truck outside of Vienna. A razor wire fence strung the full length of Hungary's border with Serbia. These are the tragic icons of Europe's refugee crisis, images that finally shattered the world's indifference, moving it to tears, and, hopefully, to action.
Yet one group didn't need this summer's shock show to begin reaching out to the tens of thousands fleeing conflicts in Syria, Afghanistan, and Eritrea: German Soccer. Since 2014, "Welcome Refugees" banners have flown over crowds at German professional stadiums. #RefugeesWelcome is omnipresent in German soccer twitter feeds and blog sites. Last January, after FC St. Pauli fired head coach Michael Frontzeck, fans showed up at the next home game with a banner that read "Coaches Come. Coaches Go. Refugees Stay."
And German soccer's generosity doesn't stop at slogans. The Darmstadt 98 club is raising funds to help refugees find work. Schalke 04 collects clothes, toys, and soccer gear for refugees at every home game. Berlin's Babelsberg 03 club, an organization known for its political engagement, has formed a second division team composed entirely of refugees. All 18 teams in the Bundesliga—the German premier league–have made it a practice to bring refugees to games; many organize transportation.
"Our club believes it is our responsibility to help these children, women, and men who are in such great need," said Bayern Munich legend and current CEO Karl Heinz Rummenigge. The reigning Bundesliga champion has pledged 1 million Euros in a joint effort with Munich's city and state governments to build a training camp where refugees can practice soccer, receive clothing, and study German.
Germany's World Champion national team has also made a stand. This September, just before its European Championship qualifying match against Poland, the team released a short anti-racism video featuring team captain Bastian Schweinsteiger and teammates Mesut Ozil, Ilkay Gundogan, and Jerome Boateng. In the video, the players stand wordless, holding signs that read "For Integration," "For Respect," "Against Violence and Hate." The pairing of the Aryan-looking Schweinsteiger with three non-ethnic Germans is effective, and clearly deliberate. "We represent German soccer, and the national team," says team manager Oliver Bierhoff. "We have an opportunity to lead here, to send a signal."
The outpouring of sympathy for refugees—and the sincere efforts to help them—are broad based across German soccer. They are also somewhat surprising. For decades, Germany's ultra fans used  Bundesliga stadiums as venues to spew their hatred of blacks, Jews, homosexuals, and all things foreign, and transformed the surrounding areas into battlegrounds. Germany's radical fan fringe maintained strong ties with right wing extremist groups, ties many club owners chose to ignore. Last year, several rival ultra bands forged a sinister truce to form the xenophobic HoGeSa (Hooligans Against Salafists.) HoGeSa has already staged rallies and marches in key German cities to protest the "islamization" of their country.
Now fans from FC St. Pauli march to protest their regional government's sluggish response in settling refugees. "There's a new fan scene emerging in Germany," says Robert Claus, a researcher of fan culture and racism at the University of Hannover. "It's no longer racism and xenophobia in our stadiums. These fans identify with the left, and fight for refugee rights in Germany. And when 40,000 people in a stadium see a banner with the words 'Refugees Welcome,' they take note."
German soccer, and even Germany, cannot solve the refugee crisis alone. Europe—and the West—will need a decisive and well-coordinated policy to accommodate and integrate a wave of asylum seekers that may number up to one million by year's end. Yet while their leaders wring their hands and their fellow Europeans close their eyes—and minds—these clubs and fans have made a statement, and taken action. They deserve applause.